On Friday 15 October, St David's began its journey into the new House system of eight houses, which will be fully implemented next year. Students were allocated into their new Houses, met their new House Directors and tutors, and received a House buff to begin to represent their Houses with pride.
The reimagining of the House system is not to remove or ignore our past as a school, but rather to enhance and protect what we already have, whilst making us more united and cognisant of our culture and history as South Africans, and of the students that are entrusted to our care. The aim for this restructuring and refocus of the House system is to create excitement and to rebuild what St David's stands for in terms of spirit and legacy.
COVID-19 made it evident that we are a school that is based on, and builds off of, relationships between students, staff, families, alumni, and the broader community. While we continue to strengthen current relationships, we believe that we must be inclusive in building relationships with additional new families, and remain relevant to the community and broader society that we serve. The naming of the new Houses allows for us to be more inclusive to the community beyond our walls and drives us towards a future that is diverse and embracing of all the facets that make South Africa who we are - a notion that we hold highly in our ethos. As St David's Marist Inanda celebrates our 80th birthday this year, we want this to be a year of impact and legacy. We want to leave a reminder for the generations to pass through our gates that this was the moment where we moved from a 'great school' to a school of excellence.

The restructuring of the House system will allow for our pastoral care to be more effective and deliberate - having smaller numbers per Grade in each House will allow House Directors to form and build relationships with each student in their House from their first day until they matriculate, even more so than is currently present. We believe that this new House system with smaller numbers per House will enhance House identity and spirit, and strengthen camaraderie and friendships between students.

We are moving towards this change with excitement and elation, and the enthusiasm that our current Marist gentlemen will be part of something that will make a lasting impact in the threads that are the history of St David's Marist Inanda.
The New House System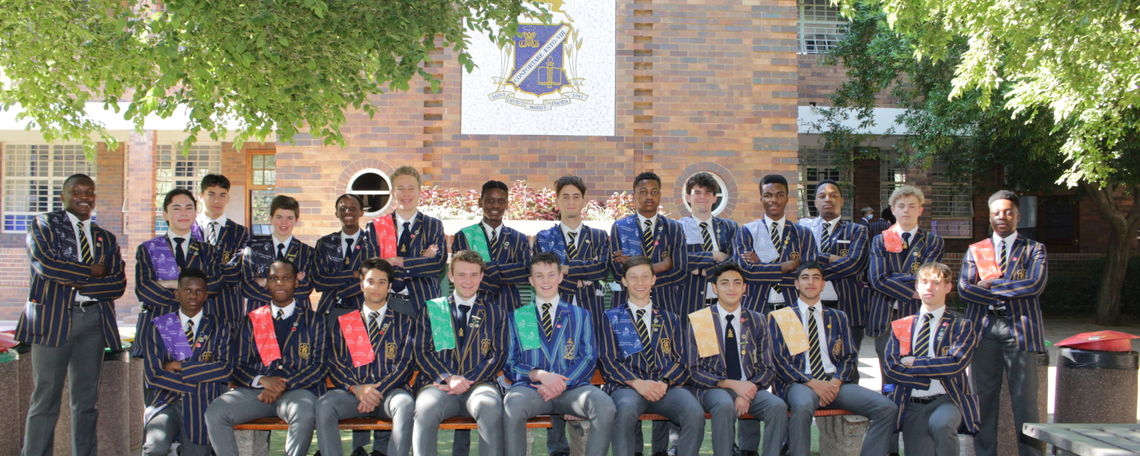 Benedict (Green) - House Director: Mr Clive Venter
Benedict House is named after the founder of Marist schools, St Marcellin Champagnat, as Benedict was one of his names. This links us to many other Marist schools, as most have a Benedict House, in order to honour and remember the ideals of out founder.
College (Red) - House Director: Dr Tiffany Higgo
College House is said to be the first House at St David's that the High School students were allocated to in the early days of the school.
Osmond (Blue) - House Director: Mr Uyanda Maqina
Osmond is believed to have been named for Brother Osmond, the Marist Brother Provincial at the time that St David's was established. He was a significant force in helping to establish the new Marist school at Inanda, guiding it from being only a kindergarten to a school teaching up to Matric.
The Bishops (Yellow) - House Director: Mr Matthew Schneider
The Bishops was one of the new Houses introduced as the school grew and pupil numbers increased. It is named in honour of the Bishops of Johannesburg, who played a pivotal role in establishing the Marist school in northern Johannesburg, which grew to become St David's Marist Inanda.
Daswa (Orange) - House Director: Mr Clinton Page
Dawsa House is named after Benedict Daswa. Daswa was born in 1946 in Thohoyandou, he was a teacher and principal, an exemplary husband and father, and a community builder in his Catholic parish, and became a martyr who was killed for his faith in 1990. With his martyrdom recognised by Pope Frances, and his subsequent beatification in 2015, he is well on his way to being South Africa's first saint and a real example for all.
Selima (Black) - House Director: Mrs Demi Timms
Selima House is named in honour of Mr Phineas Selima who worked at St David's for over 50 years. He began working for the Brothers as a young man in 1958, tending to the gardens and washing dishes in the Brother's household. In 1963, he was tasked with admin responsibilities in the Bursar's office and then moved to the Print Room. For over 50 years, he never once took a sick day and remembered everyone's name, both staff and pupils. His engagements with people embodied everything it means to be Marist - with a love for work and always rising to the challenges he faced. His quiet presence and warm heart was always welcoming, and he was a man of rich faith. He retired in 2010, and passed away in 2018.
Plaatje (Purple) - House Director: Mrs Bianca Chendip
Plaatje House is named after Solomon Tshekisho Plaatje, who was a true scholar, intellectual, teacher, court interpreter, newspaper editor, politician, linguist, translator, writer and novelist. One of the most gifted South Africans of his time, he translated Shakespearean plays into Tswana, and his novel, Mhudi, is an enduring legacy for the world.
Jude (Grey) - House Director: Mr Gareth Brown
Brother Jude Pieterse is an icon in the Marist world, and his pivotal work as a leading educationalist in a difficult period in South Africa deserves to be recognized by our school. He not only contributed to the fabric of non-racial education, but his insight and foresight in establishing structures for the future have ensured the sustainability of our schools and therefore the Marist mission in Southern Africa.